Review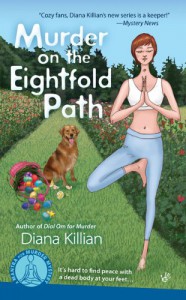 3.5

The third installment finds A.J walking a fine line between familial duty and romantic fulfillment. Also throw in a suddenly rediscovered ex and there's an wrench thrown in the romantic path....oh and Elysia may or may not have killed a cute young gigolo, there goes family.

Either way A.J tries to balance all of this on top of Lily's incessant bitchiness while trying to catch a murderer.

This installment delves into Elysia's background as well as the relationship that A.J's parents had. It seems that Ellie has also halted with the idea of pushing AJ and her ex back together, which is good because I was ready to scream if she did it again.

Ellie as a murder suspect is pretty hilarious in and of itself and its really her take on being suspected that makes her the star of the book.

It's a good book and the characters are becoming more fleshed out and the relationship between AJ and Jake is making more sense. Also, added bonus that Stella gets involved.